The seal has been opened and now demons are looking to retake the world with force and brutality. As a fallen angel named Sherri, you will work with and recruit mercenaries in your quest to quell the forces and evil and rectify the sealing stone. Work along side the humans to secure a future for all posterity!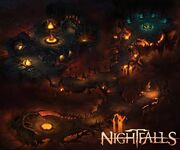 Ad blocker interference detected!
Wikia is a free-to-use site that makes money from advertising. We have a modified experience for viewers using ad blockers

Wikia is not accessible if you've made further modifications. Remove the custom ad blocker rule(s) and the page will load as expected.